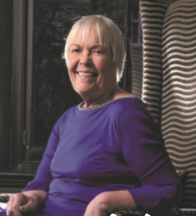 Many people who embark on a weight loss journey say there was a stand-out moment in time when the decision to take that all-important first step was made. And for Linda, who has been trying to shed the pounds for years, her success this time around was certainly the result of a red letter date.
"I went to the shop, bought a proper diary and I wrote down every single thing that I ate every day without fail. It's something I still do to this day."
"I would be able to look back on each day and see exactly what I had eaten. It really helped me to keep on track, seeing what I had eaten during the weeks when I had seen a drop on the scales, and what might have contributed in weeks when I did not do so well.
"That would be my one top tip for anyone who wants to lose weight – write it down. If you see it there in black and white, you can't argue with the results."
Linda had struggled with her weight for many years, trying various classes and plans without any success. But she was convinced to give it one last try after spotting a poster for a local Scottish Slimmers class something she describes as her light bulb moment.
She joined in October 2016 and while she made steady progress, she was not blown away by her results. But when the new Feelgood plan was launched, it was like someone – or something – flicked a switch.
Linda said: "I just found [the plan] so easy to follow and really enjoyed the fact that I had Flexichecks that I could use as I wished. I think the class structure also had a lot to do with it.
"There was a really good bunch of people in the class. We would come in, enjoy our classes and then stay afterwards and have a chat. Everyone would support each other, whether it was sharing some advice or laughing with some banter.
"I can understand why people who are busy use the weigh and go option if they have a lot to fit into their day, but I don't think I would have been able to stick with it if I hadn't had such a supportive group of people around me."
The weight soon started falling off – Linda eventually went below her Target Weight – and friends and family were quick to compliment her on how fabulous she looked. However, Linda discovered that there was an added benefit to losing weight, one that she never expected.
"I had been having real problems with my back for years and taking painkillers because I was in so much discomfort. Once I lost about a stone and a half, my back pain barely bothered me at all.
"It's meant that I am now much more active than I used to be. I've done Zumba classes and I've even taken up badminton- at my age I don't run to hit the shuttlecock, but I reach for it! I never thought I would try something like that, but it's such fun.
"My friend and I now go out walking four nights a week. I really enjoy it and it's always a good chance to get a catch up and a blether. I've found that having people around me has helped me stay motivated, and my advice would be to ask a friend to join a class with you, so you can support each other."