Coconut sweet potato curry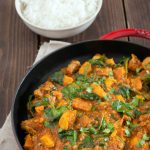 Gluten free, Vegan and Vegetarian.
Spray oil
1 large onion (halved and sliced)
2 garlic cloves (crushed)
1 cm piece root ginger (peeled)
1 tsp paprika
½ tsp cayenne
1 red chillies (deseeded and sliced)
1 red peppers (deseeded and sliced)
500 g sweet potatoes (peeled and chopped into chunks)
150 g passata
300 ml coconut milk
2 tbsp peanut butter
small bunch fresh coriander (chopped)
Spray oil in a large non-stick pot and add the onion. Fry on medium to low heat for 10 mins until soft then add the garlic and grate the ginger straight into the pan. Stir in the paprika and the cayenne and cook for another minute.
Add chilli and red pepper to the pan. cook for 4-5 mins.
Add the chunks of sweet potato to the pot and cook over medium heat under potatoes start to soften slightly.
Pour the passata and the coconut milk over the sweet potatoes, stir to mix everything together and cover the pot with a lid. Bring to the boil and then reduce to simmer for 30-45 minutes or until the sweet potatoes have softened down.
Lastly, stir the peanut butter through the curry, season well with salt and pepper and serve with chopped coriander scattered over the top.