Oatmeal and dill crusted salmon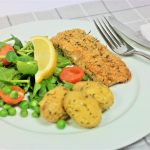 We have created a delicious salmon dish in partnership with Hamlyns of Scotland.
60 g Hamlyn's porridge oats
2 tbsp finely chopped herbs- thyme and dill.
Grated zest of 1 lemon
1 egg- beaten
4 X 100g salmon fillets- skin removed
100 g peas
8 cherry tomatoes- halved
12 new potatoes
Handful spinach
Lemon wedges- to serve
Preheat the oven to 200⁰C.
Blitz the oats, chopped herbs and grated lemon zest in a food processor until it resembles breadcrumbs.
Coat the salmon fillets in the beaten egg and toss through oat mixture.
Lay salmon fillets on a baking tray and spray lightly with oil.
Bake in preheated oven for 20 minutes until oat topping is crisp and golden.
While salmon is cooking, boil peas and potatoes until just cooked then drain.
Serve salmon with peas, spinach and halved cherry tomatoes.