Venison Burger with Salsa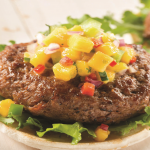 Delicious and healthy burger with mango salsa
4 Venison burgers or grill steaks
4 wholemeal burger thin
1 large ripe mango
1 green pepper (halved seeded and finely diced)
1/2 small fresh red chilli (halved seeded and very finely chopped)
3 tbsp chopped fresh coriander
grated zest and juice of 1 lime
2 tbsp rapeseed oil
salt and freshly ground black pepper
Kale salad leaves
1) Cook 4 burgers according to the cooking guidelines. While they are cooking, make the salsa.
2) Halve the ripe mango by slicing off the sides close to the stone. Peel off the skin with a potato peeler and cut into small dice.
3) Mix mango with finely chopped red onion, green pepper, fresh red chilli, and 3 tbsp chopped fresh coriander.
4) Mix the lime zest and juice, 2 tbsp rapeseed oil and season to taste with salt and freshly ground black pepper.
5) Lightly toast flour burger thins (Kingsmill). Pile some baby kale (or other salad leaf) on each thin base, top with a burger and spoon a generous amount of salsa on top.