Beetroot and chicken chilli wraps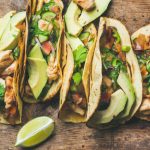 Delicious, healthy lunch recipe using leftover chicken.
150 g chicken breast (cooked skinned)
180 g beetroot
1 avocado
¼ red onion
iceberg lettuce
coriander
4 small wholemeal wraps
4 tbsp sweet chilli sauce
1. Tear the chicken into piece and mix with the beetroot, avocado and onion. Mix in the lettuce and coriander.

2. Warm the wraps in a low oven.

3. Divide the filling between the wraps and drizzle with chilli sauce. Fold each wrap up and slice diagonally to serve.