Courgette Risotto: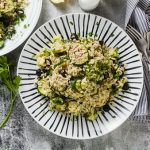 Delicious and filling way to increase your veggie intake.
1 onion - chopped
1 tbsp chopped parsley
2 courgettes - diced
2 to matoes - chopped
85 g risotto rice
275 ml vegetable stock
2 tbsp grated Parmesan
Saute the onion in a pan until softened. Add a little water along with herbs, courgettes, tomatoes and rice.
Continually stir and add stock a little at a time.
Cook until all liquid is absorbed and rice is cooked.
Sprinkle over Parmesan and serve.