Fruity muesli brunch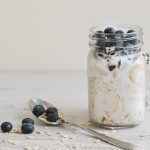 Get ahead of your day by preparing a delicious and healthy breakfast the night before. You'll save time in the morning and have the energy to power your day.
120 g porridge oats
100 ml unsweetened apple juice
200 ml water
2 apples- cored and grated
grated zest of 1/2 orange
25 g walnuts
150 g 0% fat Greek yogurt
2 tsp clear honey
200 g berries
2 tsp sunflower seeds
Put oats, apple juice and water in a bowl. Cover and leave to soak overnight.
The following day, stir in grated apple, orange zest, nuts and yogurt.
Divide between 4 serving bowls and drizzle with honey, berries and seeds.