Ginger sprouting bean salad: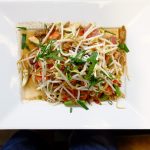 Serves 2. No Check
100 g bean sprouts
garlic clove- crushed
1 pepper- chopped
Juice of 1 lime
½ red onion- chopped
2 tsp soy sauce
¼ cucumber
2 tbsp fresh coriander- chopped
Pack rocket
Fresh ginger
Place bean sprouts, pepper, red onion, cucumber and rocket in a bowl.
Separately, mix together grated ginger, garlic, lime juice and soy sauce.
Sprinkle dressing over salad and toss together. Serve with coriander.