Halloumi and roasted vegetable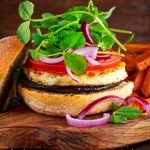 Serves 2 FG 7 / CC 7
Spray oil
1 aubergine - cut into thick rings
1 beef tomato - cut into rings
4 slices of halloumi
1 tbsp teriyaki sauce
1 tsp rice vinegar
1/2 tsp honey
1 tbsp chopped coriander
1/2 tsp toasted sesame seeds
Piquant tomato sauce
1 small onion - finely chopped
1 garlic clove- crushed
spray oil
125 g ripe tomatoes- roughly chopped
60 ml red wine
1 tsp balsamic vinegar
Tomato Sauce: Cook the onion and garlic gently in a lightly oiled pan. Add half the chopped tomatoes and wine. Cook for 5 minutes.
Blend until smooth and stir in remaining chopped tomatoes and balsamic vinegar. Season.
Spray a griddle pan with oil and place over medium heat. Cook aubergine until tender on both sides. Add tomato rings and halloumi.
Layer aubergine, tomato and halloumi slices, finishing with a slice of aubergine.
Blend together teriyaki sauce, rice vinegar, honey and seasoning. Drizzle over vegetable stack and sprinkle with sesame seeds.
Pour the tomato sauce around vegetables and garnish with chives.