Method
This recipe is from our Just For Me Recipe book, click here to buy a copy for more recipes just like this
Mexican Steak Strips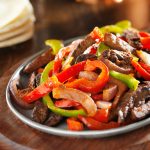 A quick and easy recipe for one in just 10 minutes.
10 Classic Checks
125 g lean (trimmed rump steak)
1 red or green pepper (or a good handful of mixed)
1 small onion or shallot (sliced)
60 g mushrooms
Spray oil
1/2 tsp chilli powder (or to taste)
Pinch of cumin
Salt & black pepper
1 wholemeal tortilla
Prepare your steak cutting into small strips. Slice the pepper, onion and mushrooms.
Stir-fry the steak strips in a pan sprayed with oil. Remove the steak.
Add your vegetables to the pan and stir-fry for 3-4 minutes. Sprinkle in the chilli and cumin. Fry for a further 1 minute. Return your steak to the pan together with 1tbsp of water and stir-fry for 2-3 minutes more.
Season to taste and place steak mixture on to the tortilla, roll up and serve
Why not replace with chicken the next time to keep your meals varied.