Sausages with tasty bubble and squeak mash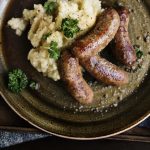 FG 0 using 1 GC CC 13
8 low fat sausages (Scottish Slimmers X John Davidsons )
2 red onions (finely sliced)
spray oil
1 beef stock cube
300 ml boiling water
1 tsp cranberry sauce or redcurrant jelly
For the bubble and squeak mash:
450 g potatoes (peeled and cut into chunks)
1 onion (finely chopped)
2 garlic cloves (crushed)
spray oil
175 g cooked left-over vegetables (e.g. shredded cabbage, chopped sprouts)
85 ml skimmed milk
salt
freshly ground black pepper
Cook the sausages under a preheated hot grill, turning them frequently, until they are cooked through and appetizingly brown all over. Keep warm.
While the sausages are cooking, boil the potatoes in a large pan of lightly salted water until tender. Drain and return the potatoes to the warm pan.
At the same time, cook the onion and garlic slowly in a pan that has been sprayed lightly with oil until they are really tender. Stir in the leftover vegetables.
Mash the potatoes with the milk and beat with a fork until smooth. Add the cooked vegetable mixture and plenty of black pepper. Keep warm.
For the gravy, cook the red onions gently in a pan sprayed with oil until softened. Crumble in the stock cube and stir well, then add the boiling water and cranberry sauce. Let it bubble away until it reduces and thickens.