Spicy meatballs pittas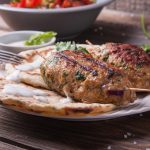 Delicious and quick recipe. Perfect for family meals.
250 g extra lean minced beef
½ tsp garlic paste
Pinch cumin
Pinch cinnamon
Pinch chill flakes
1 tbsp tomato puree
2 tbsp 0% fat Greek yogurt
Chopped mint
Pinch sugar
2 wholemeal pitta breads
Salad
Preheat oven to 200C/ 180C fan.
Put mince, garlic, cumin, cinnamon, chilli, tomato puree, salt and pepper into a bowl and mix well.
Use wet hands to shape mix into 8 balls and place on non-stick baking tray. Bake on top shelf of oven for 15 minutes.
Mix together yogurt, mint and sugar.
Put pitta bread into oven to warm then cut in half to form pockets.

Put 4 meatballs in each pitta bread along with salad. Top with yogurt.