Thai green prawn curry: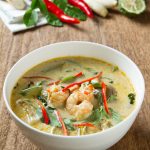 Serves 4 FG 1 using 1 GC / CC 10
Spray oil
2.5 cm piece fresh ginger- peeled and finely chopped
2 garlic cloves- crushed
1 chilli - finely chopped
2 kaffir lime leaves
200 g cherry tomatoes- halved
100 g thin green beans- trimmed
1 tbsp Thai curry paste
200 ml half-fat coconut milk
400 g raw shelled tiger prawns
250 g baby spinach
150 g brown rice (dry weight)
Coriander
1 lime
Spray a non-stick frying pan lightly with oil and place over a low to medium heat. When it's hot, add the ginger, garlic and chilli, and cook for 2 minutes without colouring.
Stir in lime leaves, tomatoes and beans, cook for 1 minute. Add the curry paste and coconut milk, simmer for 8-10 minutes.
Stir in the prawns and spinach leaves and cook for 3 minutes until prawns are pink.
Cook rice according to packet instructions.
Serve curry on bed of rice, garnished with coriander, quarter lime on side.
Here is the equipment we used: https://www.amazon.co.uk/Tefal-Taste-Twin-Pack-FryPans/dp/B006FH9AHQ/ref=sr_1_1?ie=UTF8&qid=1551361387&sr=8-1&keywords=tefal+taste+twin+pack+frypans+-+black