Venison Grillsteaks with Warm Greek Salad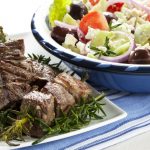 Serves 4 Checks 16.5
4 Venison Grill steaks
200 g orzo (Greek pasta looking like rice)
225 g bag prepared fresh baby spinach (kale or watercress)
250 g halved cherry tomatoes
75 g black olive
100 g low fat feta cheese
2 tbsp fat-free salad dressing
A sprig of basil or oregano to garnish
1)Cook 4 grillsteaks according to the cooking guidelines
2) While they are cooking, sprinkle orzo into a large pan of boiling salted water and boil for 8 minutes.
3) Stir in fresh baby spinach, kale or watercress and boil for another 2 minutes.
4) Tip into a colander or sieve and leave to drain.
5) Tip cherry tomatoes, black olives, low-fat Feta cheese, broken into rough chunks into a big bowl, season with lots of black pepper.
6) Toss in the drained hot pasta and spinach, and serve with the grillsteaks.
7) Scatter with basil or fresh oregano.