Warm lentil salad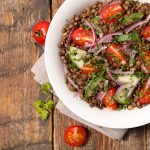 Delicious Feel Good lentil salad perfect for a quick lunch. And it's low in Checks.
400 g butternut squash
1 red onion- cut into wedges
1 pepper- cut into small pieces
200 g Puy lentils
Parsley- chopped
Drizzle balsamic vinegar
100 g rocket
120 g goats cheese-crumbled
Preheat oven to 200⁰C.
Peel and remove seeds from squash and cut flesh into cubes. Lay on baking sheet with onion and pepper. 3. 3. Lightly spray with oil and roast in oven for 30-35 minutes.
Meanwhile, put lentils in a saucepan and cover them with cold water. Bring to boil and reduce heat to simmer for 15-20 minutes. Drain well.
Put warm roasted vegetables and lentils in a large bowl.